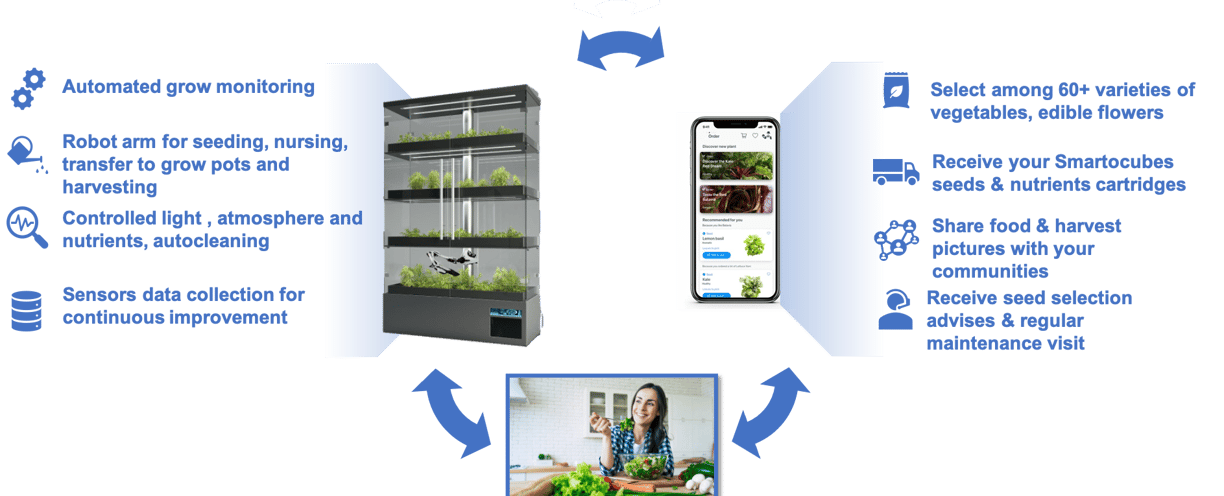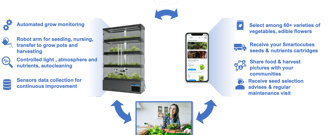 What does Smartodna stand for ?
Smartodna is a polyseme name :
It raises smartness as central in the DNA of the company, the essence of Smartodna products is to achieve ease of use for anyone willing to eat fresh and healthy vegetables.
Smartodna also alludes to the founder's origins, the Hodna region in Algeria. Human ingenuity has relentlessly worked there to irrigate with water scarcity the harsh and dry steppe to turn it into green and fertile fields.
How does Smartodna farm works ?
Smartodna farm is controlled by a powerful software that optimise all the parameters for the plants to grow : temperature, water, light, nutrients and many more. The farm is connected to the internet and Smartodna Cloud where data are gathered and analysed to ensure continuous improvement. After few clicks on your smartphone to select your varieties, we send you the Smartocubes that contains the seeds to grow. Once inserted, nature deploys and rises its greens (1 to 5 weeks) and Smartodna farm ensures the best conditions to let it happen. The growth is three times faster than traditional agriculture and consume 90% less water than traditional agriculture.
What do I need to use the Smartodna farm ?
Designed to fit your kitchen, your living room or your workspace, the Smartodna farm needs an electrical outlet and to be placed within a stable broadband cellular network. Once you receive and insert our Smartocube seeds and a five gallon bottle water, it is ready run.
Is Smartodna farm sustainable ?
Smartodna farm help reduce carbon emission related to food transportation and packaging. As our farm rely on electricity, we strongly advocate for a faster move toward a carbon-less energy source for electricity production.
Our goal is also to help countries reducing their food importation. GCC countries imports approximately 56 % of its vegetables. During a disruption in the supply chains such the one related to COVID-19, the countries face shortage vulnerability that we can help reduce. Some salads travel 6'000 kms and loose more than 60% of their freshness and taste to be consumed in Bahrain or in the GCC, we believe our solution can help mitigate this importations.
How much does it cost ?
Price depends on the model and duration of the subscription. We are currently working to give our first customers the best financing solution available in the region. Subscribe to our pre-order mailing list to be in touch when prices will be communicated.